INVENTIVENESS "MADE IN ITALY"
Knowledge and innovation, these two terms are in perfect balance in PS vision. However what really makes the difference is our resilient attitude and ability to adapt.

Founded in 1960 by Mr. Stefano Parma, PS COSTRUZIONI MECCANICHE has developed over the years, into a world leading company in the designing and manufacturing of packaging solutions for the cable & wire industry.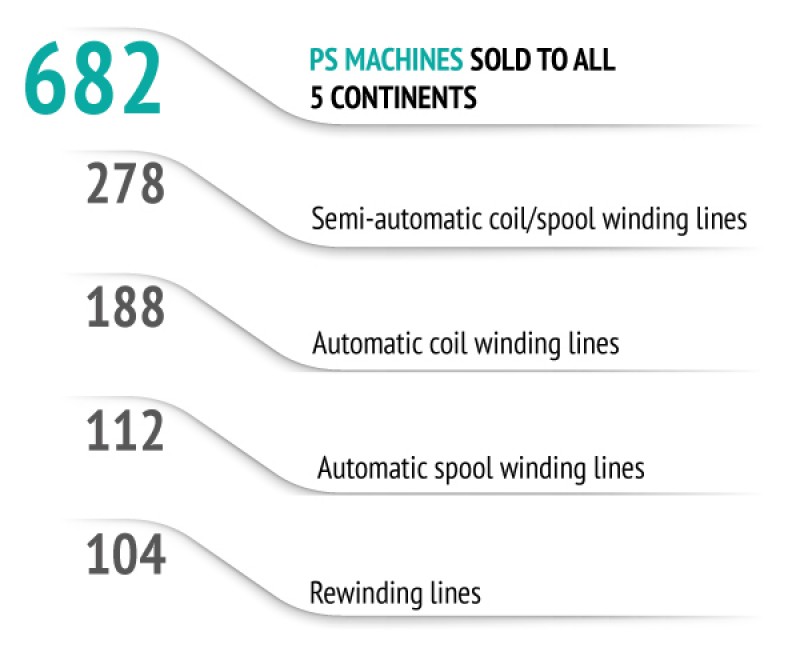 MISSION & VISION
PS main objective is Customers full satisfaction, by concentrating on:
HIGH-QUALITY guaranteed by using advanced components for assembling all our lines units.
EXPERTISE: it guarantees high-quality standards in the designing and software developing.
VERSATILITY: PS technical team is able to ffer custom designed solutions, thus making each line, a unique model.
RELIABILITY: sturdy and long-lasting lines that ensure continuity in production.
MADE IN PS: all the production phases: plant design, mechanical/electrical engineering and software development, are made inside the Company, thanks to forefront equipment and machinery, always in constant renewal.
AFTER-SALES SERVICE: our qualified team is able to guarantee a real time assistance around the world, also by using remote assistance.
TECHNOLOGY INNOVATION: always looking for new solutions, by continuing investements in research and innovation.
MINOR ENVIRONMENTAL IMPACT: all our lines are made by using clean energy, thanks to the photovoltaic system.
THE RESULT IS A COMPANY THAT OFFERS SERIOUS AND PROFESSIONAL SOLUTIONS, ENSURING RELIABILITY FOR ALL ITS PRODUCTS.
PS machines are truly citizens of the word
ITALIA
FRANCIA
SPAGNA
GERMANIA
BULGARIA
CROAZIA
ROMANIA
UCRAINA
AUSTRALIA
MESSICO
CINA
PERU'
ARABIA SAUDITA
OMAN
IRAN
INGHILTERRA
VENEZUELA
GIORDANIA
ISRAELE
SVIZZERA

ALGERIA
INDIA
ZIMBAWE
BANGLADESH
SIRIA
RUSSIA
ECUADOR
IRLANDA
EGITTO
EMIRATI ARABI
YEMEN
ETIOPIA
QATAR
LITUANIA
CILE
LIBANO
UCRAINA
KUWAIT
MAROCCO
ZIMBAWE

BIELORUSSIA
POLONIA
CECOSLOVACCHIA
GRECIA
LIBANO
TAIWAN
BRASILE
KOREA
MALTA
TURCHIA
TUNISIA
ANGOLA
FINLANDIA
PORTOGALLO
SERBIA & MONTENEGRO
BOSNIA
NUOVA ZELANDA
SVEZIA
USA
SUD AFRIACA